Sun, 23 August 2015
069: Creando Hispano Entrepreneurs con Marcie Quintana
Marcie Quintana is a recovering professional form the corporate world. She is a latina of Mexican descent born in California and raised in Mexico. She holds a BS in Accounting and is a non-practicing CPA, she is also a licensed realtor in CA and a Life & Business Certified Professional Coach. In November 2014 she added one more area to her entrepreneurial ventures by launching the podcast Hispano Entrepreneur where she interviews hispanic entrepreneurs and shares their journey with the podcast listeners.
Aprendizajes
El camino de Marcie hacia a lograr su dream.
Como dejo el mundo corporativo para convertirse en podcastera
Como Marcie esta ayudando a emprendedores Hispanos con su podcast Hispano Entrepreneur
La visión de Marcie de crear una plataforma online de coaching
Porque es mas riesgoso estar empleado que ser emprendedor
Las claves del exito de Marcie
Recursos y Links
Si tienes un dream y las ganas para lograrlo pero necesitas ayuda para remontar las barreras que te haz encontrado en el camino que te están limitando te recomiendo que leas Logra Tu Dream: How 50 Successful Latinos & Latinas Turned Their Dreams Into Reality . Este libro muestra cómo 50 Latinos y Latinas exitosos convirtieron sus sueños en realidad. El libro sintetiza los 12 principios probados que han impulsado a estos emprendedores y líderes Latinos para lograr su éxito en una manera fácil de leer y concisa. El libro te va a dar la guía, la inspiración y los ejemplos que necesitas para superar las barreras con las que te estas encontrado para poder convertir tus dreams en realidad.
---
Sat, 8 August 2015
068: The Logra Tu Dream Book Has Launched !
After 6 months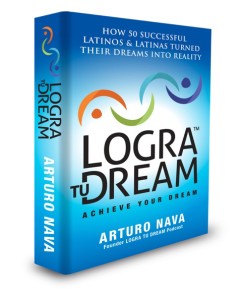 of hard work and one year and four months of interviewing some of the most success people in the Latino community. My dream of someday writing a book about how Latinos & Latinas turn their dreams into reality is now itself a reality.
Today 8/9/15 my book Logra Tu Dream: How 50 Successful Latinos & Latinas Turned Their Dreams Into Reality has launched on Amazon !!
In this episode I will give you an overview of the book (in Spanish) and let you know how you can get it:
What do Latinos who achieved exceptional success have in common? Is there a certain mindset and a set of principles that helped them achieve their dreams? If so, can they be summarized and replicated?
This is the question stated by Arturo Nava in "Logra Tu Dream", a book that explores the principles behind 50 success stories of self-made Hispanic leaders. From White House officials to tech innovators to millionaire entrepreneurs, these men and women show that it takes blood, sweat,tears -and ganas!- to overcome the odds and achieve the American Dream.
But achieving the American Dream has become increasingly difficult for many Latinos despite the huge opportunities because there is a lack of mentorship and inspiration from Latino role models…but it doesn't have to be that way.
This book will show you how 50 of the most successful Latinos and Latinas in America turned their dreams into reality. These inspirational people share their stories providing us insight into the mindset, actions and habits that allowed them to overcome barriers and conquer fears, to achieve what they once thought impossible. After reading this book you will know that your dream is possible if you learn and put into action the proven principles you will discover here which will:
* Show you that "si se puede" ( it is possible)
* Teach you how to adopt the mindset of success
* Inspire you to dream big
* Show why YOU are the most important asset you need to
invest in
* Prove to you why you need to be grateful, give and surround
yourself with the right people to be successful.
* Inspire you to get mentored and take massive action
As says Robert Renteria says "If your dream is big enough the odds don't matter". Gaby Natale the president of Super Latina TV who wrote the forward for this book puts it perfectly: "Logra Tu Dream" reminds us that it is vital for our community to keep embracing a Si Se Puede attitude and to develop our full potential both individually and collectively.
My goal is to reach as many people as possible with this book by making it an Amazon bestseller. With you help I believe we can ! Si se puede !!
Hot off the presses!…well, the virtual presses at least.
The wait is over!
Make sure you download the free Kindle version of our new book ASAP, because it is only free on Amazon for 2 days!
You'll need to download it on Sunday 8/9 or Monday 8/10.
Get it while it's HOT!
After you read the book I'd love to hear your feedback….
You can click here to leave a review on Amazon.
Dream BIG, keep the fire in your belly burning and you will Logra Tu Dream !!
---